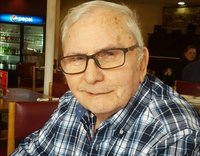 William Howard Ashley
William "Bill" Howard Ashley died peacefully in his home in the Fairview section of Wythe County on Saturday, August 12, 2017 surrounded by his family.
Bill was born May 4, 1937 in Ilion, New York to Howard Floyd and Gertrude Parsons Ashley. Mr. Ashley was preceded in death by his son, Rodney Allen, brother, Bobby; three sisters, Arlene Topfer; Virginia Ashley Sorenson; and Joan Huyck, and brother-in-law, Harry Huyck.
As a young man, Mr. Ashley worked at the Theater of the Sea where he wrestled alligators and trained dolphins in Isla Morada, Florida. He also worked a majority of his life as a product control manager at Air Brake Corporation in Watertown, New York, and Aeroquip Corporation in Wytheville, Virginia. For the last 16 years of his career, he worked as the "Windshield Doctor". He retired in 2008.
Bill cherished his wife, Shirley, and adored his daughters, his son, his 13 grandchildren and 12 great-grandchildren, and his nieces, and nephews. He enjoyed early morning yard sales and his John Deere tractor. His four furry loves gave him comfort and joy– Abby, Pepper, Kee Kee and Riley.
Mr. Ashley is survived by his wife of 25 years, Shirley Louise Murray Ashley of the home; three daughters and sons-in-law; Dory and Gregg Bennett of Austin, Texas, Monica Ashley of Sepastopol, California, and Robyn Jeanine Ashley and Erik Plute of Alexandria, Kentucky; a son, Billy Turner and daughter-in-law, Tonya Turner of Sebring, Florida; and a step-son, Mark Teer, of Wytheville, Virginia. Bill is also survived by his sister, Marion Shannon and brother-in-law, Paul Shannon, and brother-in-law, Charles Topfer. He is also survived by the mothers of his children, Linda Mead of Austin, Texas and Carol Ashley of Roseville, California. Bill was an active member of Fairview United Methodist Church of Wytheville, Virginia, and is survived by his loving church family.
A celebration of William "Bill" Ashley's life will be held 2PM on Saturday, September 9, 2017 at Fairview United Methodist Church, Wytheville, Virginia. In lieu of flowers, the family asks that donations be made to Ronald McDonald House Charities of SW VA | 2224 Jefferson Street SE | Roanoke, VA 24014 or Fairview United Methodist Cemetery, 190 East Pine Street, Wytheville, Virginia.
Grubb Funeral Home is in charge of the arrangements.