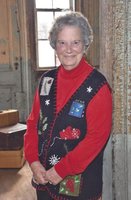 Genetta Hall Cornett
Genetta "Sis" Hall Cornett, age 76, of Wytheville, passed away Saturday, August 12, 2017. She was born April 16, 1941 to the late Eugene & Helen Hall, preceded in death by her husband Charles Donald Cornett and three brothers, John, Rob and Ralph Hall. Genetta was loved by so many. She was a friend and mama to so many people. She had a contagious smile and a heart to help and love everyone she met, and was an amazing mother, grandmother and great grandmother. She was a member of the Wytheville Church of God of Prophecy for 48 years and retired from Jafree Shirt Factory after 35 years of employment. She was a hard worker in everything she did and a wonderful woman who loved her family and the almighty Lord that she served. She is survived by her daughter, Shelia Brown of Wytheville; sons and daughters-in-law, Charles Eugene "Gene" & Robin McGee Cornett of Wytheville, Paul Douglas "Smokey" & Julie Cornett of Wytheville; sisters and brothers-in-law, Rhonda & Jim Delby, Teresa & Ricky Whalen; brothers and sister-in-law, Jerry Hall, Gary Hall, Fred & Barbra Hall; sisters-in-law, Ruth Hall, Pam Hall; grandchildren and spouses, Jessica Pennington & fianc'ee Craig Mcgee of Wytheville, Melissa & Kyle Linkous of Bland, Annaleace & Ryan Moore of Fountain, Colorado, Madison Cornett of South Carolina, Kaci & Micheal Barnes of Wytheville, Hunter Cregger of Wytheville; great-grandchildren, Collin Pennington, Makenzie Pennington & Hunter Pennington of Wytheville, Hannah & Luke Linkous of Bland, Special friends, Louie Corvin, Della Shupe; several nieces and nephews also survive.
Funeral service will be 7 P.M Tuesday, August 15, 2017 at the Grubb Funeral Home Chapel conducted by Reverend Sonny Ayers and Reverend Geary Jonas. The family will receive friends at the funeral home from 5 P.M. until service time. A graveside service will be held 11 AM Wednesday, August 16, 2017 at Bethany Lutheran Cemetery.
Grubb Funeral Home is in charge of the arrangements.