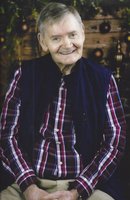 Guy Carper "G.C." Dunford
Guy Carper G.C. Dunford, age 73, of Max Meadows, passed away at his home surrounded by his family Sunday, December 16, 2018. He was born in Virginia March 11, 1945 to the late Guy Calvin and June Carper Dunford was preceded in death by a brother Jimmy Dunford. G.C. was a lifelong farmer and owner of Dunford Septic and installation. He attended the Max Meadows United Methodist Church and a member of Ivanhoe Odd Fellows Lodge and the Wytheville Masonic Lodge #82.
Survivors include his wife, Elizabeth Dunford of Max Meadows; two daughters and son-in-law, Jacquelyn and Stephen Nester of Max Meadows; Joanna Dunford of Max Meadows; two grandchildren, Whitney and Mitchell Armbrister both of Max Meadows; great grandsons, Cole and James both of Max Meadows; sister, Carol Fowler of Max Meadows; uncle, Alan Dunford of Wytheville and several nieces and nephews.
Funeral services will be held 12:00 noon Wednesday, December 19, 2018 at the Grubb Funeral Home with Reverend Ray Bolen officiating. Interment will follow in the Shortt Family Cemetery. The family will receive friends from 5 to 7 P.M. Tuesday with Wytheville Masonic Service to follow at the Grubb Funeral Home. Online condolences can be sent to the family at www.grubbfuneralhome.com
The Dunford family is in the care of Grubb Funeral Home Wytheville, VA.