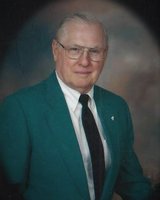 Elmo Allen Grubb
Elmo Allen Grubb, age 84, of Wytheville, passed away Wednesday January 16, 2019. He was born October 1, 1934 to the late Keller R. and Lenora Smith Grubb. Elmo was a wonderful husband, father and pawpaw he was a dedicated family man and a great friend to many and a longtime member of the Wytheville Presbyterian Church.
Survivors include his wife of 64 years, Betty King Grubb of Wytheville; daughters and son-in-law, Gail and Robert Kendrick of Wytheville; Kathy G. McAllister of Wytheville; son and daughter-in-law, David and wife Menica Grubb; grandchildren, Whitney & husband Cole Throckmorton, Megan & Husband Brandon Harner, Tessa Hall; great grandchildren, Briggs, Oakley & Ember Throckmorton, Rhys, Taytum & Macyn Harner, Koda Hall; brother & sisters, Charlotte Saunders, Sarah & Harold Conley, Howard & Libby Grubb; sister-in-law, Phyllis Grubb; many wonderful nieces & nephews also survive.
Funeral services will be held 1 P.M. Saturday, January 19, 2019 at the Wytheville Presbyterian Church with Reverend Brad Simpson officiating. Interment will follow in Rosewood Memorial Gardens in Rural Retreat. The family will receive friends from 11 A.M. until the time of the service at the church Saturday. In lieu of flowers donations can be made to the Wytheville Presbyterian Church, 285 Church St, Wytheville, VA 24382 or the Wythe County Rescue Squad, 195 W Spring St, Wytheville, VA 24382.
Online condolences can be sent to the family at www.grubbfuneralhome.com The Grubb family is in the care of Grubb Funeral Home in Wytheville, VA.