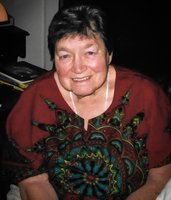 Beulah Hoback Bing
Beulah Hoback Bing, beloved wife, mother, grandmother, great-grandmother and friend passed into eternity on January 16, 2019, she was 95. Beulah was born March 19, 1923 in Wytheville, Virginia to parents Arthur (Doc) and Carrie Hoback. She graduated from Wytheville High School and attended Marion College before moving to Washington, D.C. to work for the government at the age of nineteen. That is where she met Robert Bing who she married on June 22, 1946. She began her family in Washington, then moved to Takoma Park, Maryland. Robert Sr., died in 1985. In 1997, she returned to Wytheville to finish her life in her hometown and because of Robert Jr.'s illness, she became a charter Member of the National Alliance for the Mentally Ill. Robert Jr. passed away in 2008. She was a member of Wytheville Presbyterian Church and a charter member of the Wythe County Genealogical and Historical Association. Beulah is preceded in death by her husband of 39 years, Robert Chan Bing, her son of 58 years, Robert Chan Bing, Jr., her sisters, Mary Brunk and Pearl Albert, and her brother, Fred Hoback.
She is survived by four children: Paula Bing of Pearl River, New York, Charles Bing & spouse (Karen) of Burleson, Texas, Cedar Chan of Scaly Mountain, North Carolina, and Richard Bing & spouse (Michelle) of Mount Pleasant, South Carolina; six grandchildren and eight great grandchildren. Beulah made friends with everyone she met, many of whom considered her as family or even a mother. She was an avid reader, excellent cook, loved genealogy, and had endless stories about the history of the area and her relatives. "Her children rise up and call her blessed" (Proverbs 31:28).
A memorial service will be held Friday, January 25, at 10:00 AM at Grubb Funeral Home Chapel, on 215 S. 6th Street, Wytheville, Virginia. There will be a graveside service at Saint John Lutheran Church Cemetery on N. 4th Street following the service. The family requests that in lieu of flowers donations can be made to the National Alliance for the Mentally Ill (nami.org, 888-999-6264, P. O. Box 49104, Baltimore, MD 21297) or Hospice of Southwest Virginia (115 N. 4th Street, Wytheville, VA 24382, 276-228-1710). Expressions of sympathy may be sent to the family at www.grubbfuneralhome.com
Grubb Funeral Home is in charge of the arrangements.