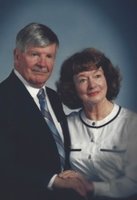 Jettie Lucille Hoback Akers
"Together in Paradise"
Jettie Lucille Hoback Akers, age 92, of Wytheville, Virginia, passed away on January 21, 2019. She was preceded in death by her husband of 65 years, Harry Douglas Akers; parents; Lewis W. and Josephine P. Hoback; sister; Ella Edmond Tickle; brothers Claude S, Hoback, L. Peyton. Hoback; and Marvin F. Hoback; nephews: Lawrence G. Tickle, Donnie Hoback and Joe Hoback.
Jettie was survived by nieces: Peggy T. Kincer, husband Clarence "Sonny", Patty H. Jackson, husband Melvyn and Sonia A. Hoback; nephews: Ronald R. Hoback, wife Martha and Gary Hoback, wife Hope and many cousins. Extended Family; Christin Leigh-anne Whitt, husband Lee and Tena Stephens. Caretakers, niece by marriage, Patricia J. Tickle Dishon and husband Elwood "Woody", and Sister-In-Law: Nina Akers Hughes. She has many very special friends and church members that was family to her as well.
Jettie in her younger days of life enjoy playing her guitar and tap dancing, she performed with different groups and people along the way. She decided when she was 9 she was going to live in the house that became the Akers home all of her married life. Jettie was the longest, continuous attending member of St. John's Episcopal Church where she served in multiple roles and on the Altar Guild many, many years. She worked most of her life in retail, bringing the first Goodwill Store to Wytheville and she never met a stranger; Jettie has helped so many people along life's way and believed in serving the Lord and loving her family. Today, she is having a beautiful day in "Paradise".
Memorial services will be 2:00 p.m. Sunday, February 3, 2019 at the St John's Episcopal Church located at 275 East Main Street, Wytheville, Virginia with Father Birch Rambo officiating. Inurnment will follow in the Church Columbarium. Memorial donations may be made to St. John's Episcopal Church Wytheville. Expressions of sympathy may be sent to the family at www.grubbfuneralhome.com
Grubb Funeral Home is in charge of the arrangements.