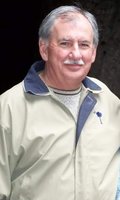 Warren Douglas "Pete" Nuckols
Warren "Pete" Nuckols, age 70, of Wytheville, passed away peacefully March 1, 2019 at his home surrounded by his family after a brief battle with cancer. He was born May 29, 1948 in Cripple Creek to the late Earnest Pierce, Sr. and Mary Margaret Williams Nuckols. He was preceded in death by an infant brother Earnest P. Nuckols, Jr. He was a graduate of the class of 1966 at George Wythe High School. After high school Pete served in the United States Army during Vietnam with two tours and receiving a Purple Heart. When he returned home from his service, he worked in construction for several years before joining the Conway Trucking Team from which he retired after 25 years of service. He was a member of his beloved St. Paul United Methodist Church where he made many dear friends and golfing buddies. Pete was very active in several clubs and fraternities, Past Master of Wytheville Masonic Lodge #82; Wytheville Lion's Club; Shriner's Kazim Temple in Roanoke where he served as a "Road Runner"; member of the Kazim Character's as the "Pink Panther"; member of the New River Valley Shrine Club. Pete was a good man with a servant's heart and will be missed by many.
On June 21, 1975 Pete married his best friend and love of his life, Betty. They have enjoyed almost 44 years of love, life and adventures.
Left to cherish his memory is his loving wife Betty Robinson Nuckols; two sisters, Janet Fields of Vinton, VA; Marsha Crigger of Wytheville; sister-in-law, Jeanne and Denny Eversole of Max Meadows; brother-in-law, Mike and Ginger Jackson of Colorado Springs, CO; Ritche Robinson and Teresa King of Bland; Nieces and nephews, Rodney Fields and Jodi Deel of Rustburg, VA; Debbie and Sidney Riley of Rustburg, VA; Darren Fields of Vinton, VA; Michael and Traci Crigger of Salem, VA; Katrina and Becca Crigger of Johnson City, TN; Lacy Crigger of Wytheville; Tanya Reynolds and Greg Altizer of Marion, VA; great nieces and nephews, Josh Fields, Lauren Fields, Nicole Dawson, Amber Riley, Haley Riley, Coty Crigger, Lela Hedgepath, Kassy Crigger, Emily Crigger, Lora and Keith Arnold, Jonathon Clemons and Emily Reynolds; great-great niece, Kaitlyn Arnold.
Memorial service will be held 1 P.M. Tuesday, March 12, 2019 at St. Paul United Methodist Church with the Reverend Lon Tobin officiating and Wytheville Masonic Lodge #82 conducting a Masonic Service. Interment will follow in the West End Cemetery where the American Legion Post #9 will conduct Military Rite's. The family will receive friends from 10 A.M. to 1 P.M. Tuesday at the church. In lieu of flowers contributions can be sent to Shriner's Children's Hospital, 950 West Faris Road, Greenville, SC 29605 or to the St. Paul United Methodist Church, 330 Church Street Wytheville, VA 24382.
Online condolences can be sent to the family at www.grubbfuneralhome.com The Nuckols family is in the care of Grubb Funeral Home in Wytheville, VA.