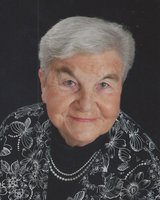 Shirley Snow Springer
Shirley Snow Springer, age 83, of Crockett, passed away Monday, March 4, 2019. She was the daughter of the late George C. and Elsie Johnson Snow. Shirley was preceded in death by her husband, Troy Springer, Sr. and son, James K. Springer. She was a member of King's Grove United Methodist Church. Survivors include two sons and daughters-in-law, Skip Springer (Betty), Charles Springer (Cory), daughter-in-law, Caroline Smith, brother, Reggie Williams (Vicki), sisters, Mertie Frye (Carson) and Brenda Parish, 9 grandchildren, 15 great grandchildren, numerous nieces and nephews.
Funeral service will be held 11 A.M. Saturday, March 9, 2019 at Grubb Funeral Home with the Reverend C.W. Huff officiating. Interment will follow in the West End Cemetery. The family will receive friends from 6 to 8 P.M. Friday at the funeral home. Online condolences can be sent to the family at www.grubbfuneralhome.com. The Springer family is in the care of Grubb Funeral Home.