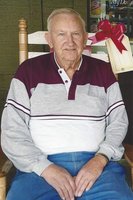 Herbert Lewis Gallimore
Herbert Lewis Gallimore, age 86, of Wytheville passed away Wednesday March 6, 2019. He was born on December 25, 1932 to the late Orville and Hazel Russell Gallimore. Herbert was a veteran having served in the U.S. Army. He was preceded in death by his first wife Audrey Gallimore, two brothers, Guy and Robert Gallimore and a sister Betty Crockett.
Survivors include his wife, Mary Allene Gallimore; two daughters and sons-in-law, Karen and Zendell Harmon; Linda Jackson and Tim Witt; Mike Jackson; grandchildren, Duston and Laura Jackson, Stephen Jackson and Kayla Jackson; four great grandchildren, Emmalynn, Brooklynn, Zach and Saverah; sister and brother-in-law, Frances and Robert Thorpe of Richmond; special friend, Tammy Lewis.
Funeral service will be held 7 P.M. March 8, 2019 at Liberty Hill Pentecostal Holiness Church with Reverend Roy Burton and Joe Carrico officiating. Graveside service will be held 2 P.M. Saturday, March 9, 2019 at Mt. Zion United Methodist Church Cemetery with American Legion Post #9 conducting Military Rites. The family will receive friends from 5 to 7 P.M. Friday at the church.
Expressions of sympathy may be sent to the family at www.grubbfuneralhome.com
The Gallimore family is in the care of Grubb Funeral Home, Wytheville, VA.