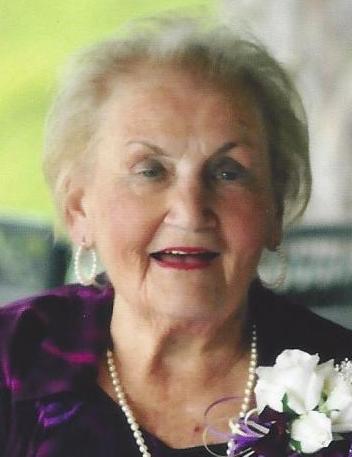 Betty June Hoback
Betty June Vaughn Hoback age 84, of Wytheville, passed away August 13, 2019. She was born in Wytheville on November 6, 1934 to the late Maurice and Opal Corvin Vaughn. She was preceded in death by her Husband Wayne Thurston Hoback and two brothers-in-law Cecil Corvin and Ed Hoback; two sisters-in-law, Polly Hoback and Peggy Cline.
Survivors include her daughter and son-in-law, Lee Ann and Anthony Gardner of Max Meadows; four nephews, Mike and Judy Hoback of Meadow View; Steve Hoback and Janice of Roanoke; Bud and Kim Hudson of Roanoke; Justin and Becky Corvin of GA; five nieces, Emma Hudson of Huntington, WVA; Marsha and Ed Hardesty of Amelia Courthouse; Dreu Ma'near of Roanoke; Peggy and Tom Eddy of Marion; Tonya and Mark Graham of Abingdon; sister-in-law, Becky Corvin of Abingdon; cousins, Larry and Nancy Corvin of Wytheville; George and Ann Wright of Abingdon; Woody and Lynda Wright of Elk Creek; special friends, Emmy Walters, Susan Wygal and Beulah Kanagy; special pet, Mickey.
Funeral services will be held 2 P.M. Saturday, August 17, 2019 at the Grubb Funeral Home with Reverend Steve Alderman officiating. The family will receive friends from 12 noon until the time of the service Saturday at the Grubb Funeral Home. In Lieu of flowers the family request donations be made to the Mt. Ephraim United Methodist Church.
Online condolences can be sent to the family at www.grubbfuneralhome.com The Hoback family is in the care of Grubb Funeral Home in Wytheville, VA.