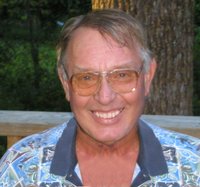 MARION KENT UMBERGER
Marion Kent Umberger, age 78, passed away peacefully Sunday, September 1, 2019 after an illness from cancer, at Hospice Home of the Piedmont in High Point, NC. Kent was born in Wytheville, VA to Malcolm Lloyd and Mary Baumgardner Umberger. He and his longtime sweetheart Nancy Hurt graduated from George Wythe High School. Attending Appalachian State University on a football scholarship Kent received a BS in Physical Education in 1965. He loved to reminisce about his days as an offensive lineman for the Mountaineers, and the fun he and his teammates had on and off the field.
Originally a coach of football, wrestling and track at Grimsley High School, Kent was especially proud of his wrestling team attending the State Championships multiple times. He boasted that the wrestlers didn't bet on who would simply pin their opponent, but who would pin their opponent the fastest. After briefly selling insurance, Kent started Custom Construction Company in the early 1980s and specialized in residential and commercial construction in Greensboro, NC. He truly enjoyed his work and was meticulous at building the right way. He had a special relationship with the men that worked for him, and in his last days, these men expressed their appreciation of the work skills and ethics he shared with them. For fun Kent played golf at Forest Oaks Country Club, and vacationed for years with his longtime golfing buddies, The Sweet Swingers. Kent had a true love and talent for flying planes and soloed after only nine hours of instruction. He maintained his pilot's license and had ownership in a Cessna 172 until he retired.
Kent and Nancy retired to Smith Mountain Lake, VA where Kent assisted in building several homes, started a wood shop in his basement and built pieces of furniture to be sold in local lake shops. He also enjoyed spending time on his ham radio. Although he was not as accomplished as a fisherman as he would have liked, he enjoyed being on his boat fishing whenever he had time.
Kent was predeceased by his wife Nancy, who likely welcomed him with a trip to the dancefloor. He is survived by his sister, Mildred Stafford of Wytheville; his daughters Meredith Williams (Burt) of High Point, and Alison Locklear (Allen) of Greensboro, NC; 6 grandchildren Jake, Jesse, Regan, Jordan, Reilly and Ashley (He was very proud that his three granddaughters are currently attending his alma mater Appalachian State); and numerous cousins.
A Visitation will be held Sunday, September 8, 2019 at Kent's childhood church Mt. Pleasant United Methodist Church, 200 Mt. Pleasant Road, Wytheville, Virginia at 1:00 p.m. A Celebration of Life will be held at 3:00 p.m., and a time to reminisce and a meal in the Fellowship Hall will follow.
In lieu of flowers, Kent's family asks that you consider a donation to Open Door Café, 680 Main Street, Wytheville, VA 24382; Compassion at Cornerstone, 7545 US29, Browns Summit, NC 27214; or, Hospice Home of the Piedmont, 1800 Westchester Drive, High Point, NC 27262.
Online condolences can be sent to the family at www.grubbfuneralhome.com. The Umberger family is in the care of Grubb Funeral Home, Wytheville.