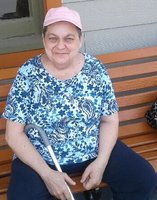 Rebecca Alice Brunk Lacy
Rebecca Alice Brunk Lacy, age 67, of Ivanhoe, passed away Tuesday, October 29, 2019. She was the daughter of the late John T. & Mary Hoback Brunk. Rebecca is survived by her husband of 25 years, Jamie Lacy; daughter, Tammy Richardson Hale of Ivanhoe; sister & brother-in-law, Peggy & Hugh Jones of Wytheville; brother & companion, Daniel Thomas Brunk & Rose Seagle of Wytheville; father –in-law and mother-in-law, Randy and Debbie Lacy of Ivanhoe; sister-in-law and brother-in-law, Molly and Gerald Johnson of Ivanhoe; nephews, Tommy Jones, Darren Jones, Hunter Johnson and Zachary Johnson.
Funeral service will be held 1 P.M. Friday, November 1, 2019 at Grubb Funeral Home Chapel conducted Reverend Jeff Callahan and Reverend Eddie Frye, with interment to follow in the West End Cemetery. The family will receive friends Thursday from 6 to 8 P.M. at the funeral home. Expressions of sympathy may be sent to the family at www.grubbfuneralhome.com Grubb Funeral home is in charge of the arrangements.